Includes a list of characters, actors and production crew members whose first names are Owen.
Let Me In
Edit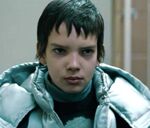 Owen is a fictional child and the main male character from the 2010 feature film Let Me In, which is a remake of the Swedish movie, Let the Right One In. The role of Owen was played by actor Kodi Smit-McPhee. Owen was a young boy who lived a sheltered life in Los Alamos, New Mexico, and was often the target of schoolyard bullies. He befriended a strange new neighbor named Abby, who sought to safeguard Owen from his antagonists and taught him how to be strong. As their friendship blossomed, Owen came to learn Abby's dark secret. She was a vampire. This did not threaten the friendship however, and Owen found himself taking unorthodox measures to safeguard Abby during her more vulnerable moments.
The Walking Dead
Edit
Owen was the leader of a savage group of survivors known as the Wolves. Like the rest of the group, he had the letter "W" carved into his forehead. As the Alpha of the Wolves, Owen led an attack against the barricaded city of Alexandria, Virginia. He and the others brutally slaughtered dozens of residents, believing that he was saving them. Owen was captured by Morgan Jones, who refused to take his life. He eventually escaped, and took Denise Cloyd hostage. While fighting through a horde of walkers, Owen actually tried to protect Denise, and was bitten. He allowed himself to succumb to the bite so that Denise could get to the infirmary. Morgan later found the reanimated Owen and put him out of his misery.
Ad blocker interference detected!
Wikia is a free-to-use site that makes money from advertising. We have a modified experience for viewers using ad blockers

Wikia is not accessible if you've made further modifications. Remove the custom ad blocker rule(s) and the page will load as expected.