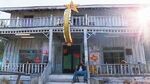 Charlie's Frontier Fun Town is a fictional business featured in the 2005 film The Devil's Rejects, directed by Rob Zombie. This was a brothel run by Charlie Altamont. A gaudily-lit saloon, it also served as a bath house and opium den. Charlie Altamont lived here with his assistant Clevon. His two most profitable prostitutes were named Candy and Casey. Charlie's Frontier served as a brief refuge for Otis Driftwood, Baby Firefly and Captain Spaulding until they were captured by the bounty hunters, Rondo and Billy Ray Snapper.
Ad blocker interference detected!
Wikia is a free-to-use site that makes money from advertising. We have a modified experience for viewers using ad blockers

Wikia is not accessible if you've made further modifications. Remove the custom ad blocker rule(s) and the page will load as expected.