Captive Wild Woman is an American horror film with elements of science fiction and adventure. It was directed by Edward Dmytryk and written by Ted Fithian, Neil P. Varnick, Griffin Jay and Henry Sucher. It was produced by Universal Pictures and released theatrically in the United States on June 4th, 1943. The film stars John Carradine as mad scientist Doctor Sigmund Walters, Acquanetta as the primal Paula Dupree - the Ape Woman, Milburn Stone as protagonist Fred Mason and Evelyn Ankers as Beth Colman. The premise behind the film is that of a scientist, Doctor Walters of Crestview Sanitarium, who uses experimental methods to de-evolve an ape into that of a human using genetic samples from several different sources including his nurse, Miss Strand. The result is a half-woman/half-ape who takes on the name Paula Dupree. Paul runs away to the circus where she saves the life of lion tamer Fred Mason.
Credited cast
Edit
Uncredited cast
Edit
| Actor | Role |
| --- | --- |
| Clyde Beatty | Fred Mason |
| Turhan Bey | End narrator |
| Eddie Borden | Dock spectator |
| Ray Corrigan | Cheela |
| Fern Emmett | Beth's murdered neighbor |
| Gus Glassmire | Coronor |
| William Gould | Sheriff |
| Harry Holman | Dock ticket clerk |
| Tom London | Ship's captain |
| Charles McAvoy | Police officer |
| Ray Walker | Ringmaster |
| Anthony Warde | Tony |
| Grant Withers | Veterinarian |
Notes & Trivia
Edit
This is the first and only horror film directed by Edward Dmytryk. Most of Edward's filmography consists of westerns.
This is the only known film work for screenwriter Ted Fithian.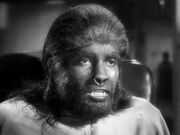 This is the first major film work for Acquanetta, whose real name is Burnu Acquanetta. She will reprise the role of Paul Dupree in the film's 1944 sequel, Jungle Woman. Although she is the main character for this movie, Acquanetta has no spoken dialogue. Acuqanetta was typecast during the 1940s for "jungle girl" roles such as when she played Luani in the Roy William Neill musical Rhythm of the Islands in 1943. She is probably best known however for her portrayal of Lea, the High Priestess in Kurt Neumann's 1946 adventure film Tarzan and the Leopard Woman.
Actor Milburn Stone will go on to play the role of Doc Galen Adams in the popular 1960s Western series Gunsmoke. He is also known for playing the role of Macklin in 1943's The Mad Ghoul.
The lion and tiger fight featured in this movie was filmed in a single take without any additional editing.
Many of the circus scenes in this movie are archival shots taken from the 1933 Kurt Neumann adventure film The Big Cage. Neumann is also known for directing the 1958 movie The Fly.
Recommendations
Edit
Mad scientist films


Animal people films

Universal Classics
External Links
Edit