This is the
Baron Frankenstein
disambiguation page.
The following is a list of links to pages that might share the same title.
(This template will categorize articles that include it into Category:Disambiguations.)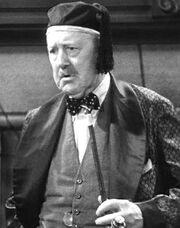 Baron Frankenstein is the name commonly attributed to the patriarch of the Frankenstein family per generation. However, not all male members of the Frankenstein family necessarily inherit the title of Baron. On at least one occasion, the inheritor of the title was a Baroness. The first Baron Frankenstein, whose first name was never given, was played by British stage actor Frederick Kerr, and he was the father of Henry Frankenstein, who assumed the title upon the old Baron's death.
See also
Edit
---

Character
This article relates to characters featured in and pertaining to the Frankenstein franchise. Some pages may redirect to a disambuguation page, which will provide a list of different versions of each character. This template will categorize articles that include it into the Frankenstein characters category.
Ad blocker interference detected!
Wikia is a free-to-use site that makes money from advertising. We have a modified experience for viewers using ad blockers

Wikia is not accessible if you've made further modifications. Remove the custom ad blocker rule(s) and the page will load as expected.